Boat Electrofishing Systems
Dependable, Efficient Equipment from ETS Electrofishing Systems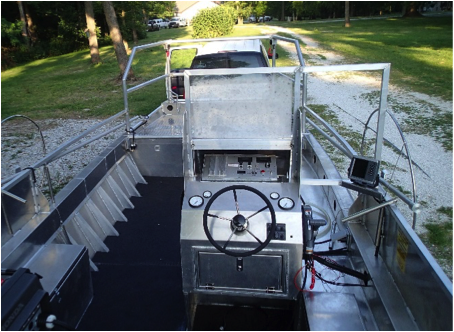 Our MBS™ Boat Electrofishing Series is a 240 VAC generator-powered electrofishing system and a cost-effective, easy-to-use solution for sampling lakes and rivers. A proven and trusted performer, it was developed with technical support from the University of Wisconsin, U.S. Fish & Wildlife Service, Wisconsin Department of Natural Resources, and many other federal and state agencies.
ETS Electrofishing Systems has provided quality boat, stream barge, and backpack electrofishing units to federal, state, and private agencies for over 25 years. We offer customized equipment with short lead times at the most competitive prices in the industry.
More than 600 of our systems are in service in the United States, Canada, Mexico, and Australia, including over 270 boat systems. ETS control boxes are fully and quickly repairable. We offer a RUSH REPAIR OPTION at no added cost.
The USFWS completed a comparative evaluation of electrofishing control boxes, available online.  Based upon that evaluation and recommendations from other agencies, a consortium of three western states have standardized on our unit for the Colorado River Recovery project. They currently have 28 boxes in use. The states of Illinois and Wisconsin also have standardized on our boxes for most regions.
All ETS Electrofishing systems are customizable to meet your organization's needs. See detailed specifications and descriptions of our lake electrofishing equipment below. Boat hulls, booms, droppers, generators, and more are available through our custom boat manufacturers – we can supply a total system. All systems include a limited one-year parts and labor warranty.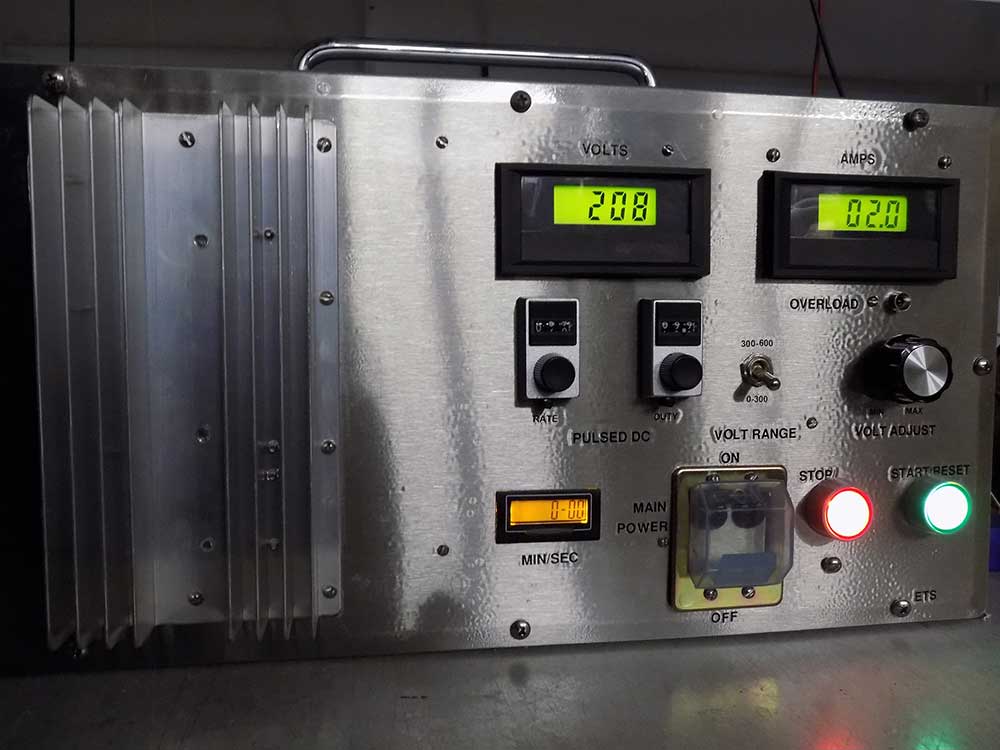 MBS Boat Series Specs
240VAC generator-powered electrofishing boat system.
A cost-effective, easy-to-use solution for sampling lakes and rivers.
| | |
| --- | --- |
| Specifications | |
| Weight, MBS control box | 31 lbs (14.1 kg) |
| Dimensions | 19" x 10" x 10″ |
| Rated input power (standard 240 volt generator) | 7200W |
| Output power, pulsed-DC peak (depends on Duty Cycle) | over 20,000W |
| Peak voltage (2 voltage ranges) -fully adjustable in 1 volt increments | Up to 600V |
| Peak current | 45A std; 82A opt |
| Conductivity range (depends on options and duty cycle) | 25-4000 µS/cm |
| RATE (cont. variable) – capable of producing the new experimental high frequency pulse rates | 1 – 1,000 pps |
| Resolution | 1.0 pps |
| Accuracy | ± 5% |
| DUTY cycle (continuously variable) | 1 – 95% |
|       Resolution | 1% |
|       Accuracy | ± 2% absolute |
| RMS AC Voltage (std/optional with ext. transformer) | 240/480VAC |
| RMS AC Current (std/optional with ext. transformer) | 30/8A |
| "Shocking" time resettable LCD meter | min/sec or all sec |
Features and Options
Heavy-duty, splash-resistant, galvanized steel control box with stainless steel front panel – Optional splash-proof construction available including controls, connectors, and displays
Pulsed-DC (MBS-1D) or pulsed-DC/AC (MBS-2D) or AC-only (ACBS) versions available – over 20,000W (peak pulsed-DC) with a 7200W or higher capacity generator (a smaller generator can be used with correspondingly less output)
Nominally rectangular pulse output in pulsed-DC mode – 45 amp peak current standard – 82 amp peak current optional
Pulsed-DC rate from 1 – 1000 Hz; maximum duty cycle from 1 – 100% – All values continuously settable in one unit increments
Up to 240VAC output in AC mode, 30 amps continuous – Optional 480VAC output, 8 amps continuous with separate booster transformer for use in low conductivity water – AC waveform is triac (dual SCR) controlled, 60 Hz only
Back-lit digital LCD metering of peak output current and peak output voltage (pulsed-DC mode), or true RMS current and voltage (AC mode) – Displays are NEMA-4 rated splash-proof and clearly visible day and night
Accumulating operating-time electromechanical timer – Separate resettable, back-lit, shocking-time LCD timer
Electronic over-current protection for pulsed-DC operation with LED over-current fault lamp – 30 amp input circuit breaker protection for AC and pulsed-DC operation
Many options available for low-voltage single or multiple footswitch, safety pressure mat and lanyard interlock control
Many boom/dropper configurations available including collapsible arrays for a wide range of water conductivities
Honda or lower-cost generator options
Standard or user-specified control box receptacles (if matching your existing boat wiring connectors)